SUNDAYS AT CAF&Eacute 78
Jamaican Queens/Ritual Howls (DJ Sets) + Uneek Collection
Sunday, August 30, 11 - 5pm

Caf&eacute 78 invites you to immerse yourself in a sumptuous brunch of beats, art, and pop-up shopping. Contemporary leaders of the Detroit electronic music club community create the sonic ambience while guests enjoy classic cocktails, an array of Anthology coffee drinks, and a menu of seasonal food specialties curated by James Beard Award-nominated chef Marc Djozlija. Plus, the MOCAD galleries are open! The series happens every Sunday from 11am - 5pm.

Jamaican Queens' Ryan Spencer has been involved in the Detroit music scene for the last 12 years, throwing both underground parties and experimental rock shows. Ritual Howls' Ben Saginaw has been a key component to the burgeoning underground rock and art scene since 2008.

The fashion and music brand Uneek Collection keeps one mantra in mind, "My Life, My Brand" which embodies their mission of Unifying Nationalities by Encouraging Education & Knowledge.

RSVP on Facebook here.


---
CAF&Eacute 78
Bar Fight 4
Sunday, August 30, 6:30 - 9pm
Bar Fight at Caf&eacute 78 is a five month Iron-Chef style bartender competition!
Rules:
One bartender per bar, per round
Bartenders must bring their own tools
Each round will have a secret ingredient that must be used in each drink
Cafe 78 will provide all spirits, mixers &amp ingredients
Bartenders will have ten minutes to make 3 drinks for judges and complete the challenge for that round.
The bartenders will than batch out drinks for the customers that purchased Judge cards
The winner from each round moves on to the finals, ROUND 5
RSVP on Facebook here
.
---
ARTIST TALK
Andrew Kuo (MOCAD Living Canvas Artist)
Tuesday, September 8, 7pm
MOCAD welcomes its Living Canvas artist Andrew Kuo, who will take time out from transforming the museum's Woodward Avenue facade to talk about his work. Kuo was invited to create a large scale mural which will add color to Detroit's urban landscape. He has appeared in dozens of exhibitions in New York City and around the world. His artwork and writing have appeared in the pages of The New York Times.
RSVP on Facebook here
---
MOBILE HOMESTEAD FALL 2015 OPENING
You Can't Print That: 50 Years of the Fifth Estate
Thursday, September 10, 2015, 5 - 7pm
Join Fifth Estate at the Mike Kelley
Mobile Homestead
for our 2015 Fall exhibition opening reception.
Fifth Estate, the nation's oldest and still thriving underground newspaper, celebrates its 50th anniversary in a big way with exhibitions at two Detroit museums this fall. Together the exhibitions provide intimate insights into the influence of the radical media, with its affiliated artists and activists, in the greater Detroit area, throughout the United States, and around the globe.
You Can't Print That: 50 Years of the Fifth Estate
, on view inside the
Mobile Homestead
at the Museum of Contemporary Art Detroit (MOCAD), features a vast amount of groovy cover art, provocative editorial cartoons, archival photographs, paintings and memorabilia recalling the iconic events, people, and institutions that informed the newspaper during its earliest days through the present.
Read about the exhibition
here
.
RSVP on Facebook here
.
---
Click here for more upcoming events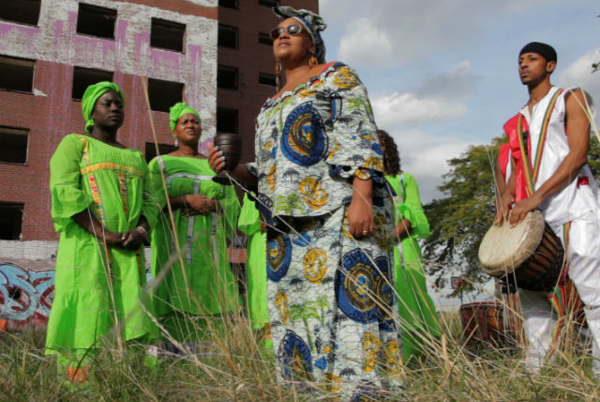 FILM
In Retrospect: A Requiem for Douglass
Oren Goldenberg - Video (2015)
August 14 - September 9, 2015

A Requiem for Douglass is a ritual comprised of many rituals.

This video, In Retrospect: A Requiem for Douglass, is a compilation of the rituals created and performed before, during and after the demolition of the Douglass Towers in Detroit, MI. The Douglass Towers were a part of the Brewster Douglass housing projects (the first public housing for low-income residents in America). They were opened in 1951 as a strategic element of "urban renewal" and brought down in 2014 under the same auspices. A Requiem for Douglass premiered at the Museum of Contemporary Art Detroit in April 2015 as an interactive video and sculpture installation where participants were invited to take a brick from the remains of the Douglass Towers. The ritual of removing a brick - from a structure built of salvaged bricks from the, and in the shape of the, Douglass Towers - activated three channels of video projection. The projected videos comprised of seven different rituals commissioned and performed onsite during the preparation for demolition.

A Requiem for Douglass is the final iteration of the series The Future is Changing: Rituals for Spatial Transformation, a project started by Oren Goldenberg around his documentary Brewster Douglass, You're My Brother (2012).

Collaborators
Performers include:
Gabriel Brass Band
Art Lab J dancers and choreographer Joori Jung
OS.4
Rowe Niodior African Dance Company
Chace 'Mic Write' Morris
Bianca Ibarloucea
St. Augustine and St. Monica Choir
Halima Cassells
Additional credits:
Senthil Seveelavanan – Interactive Computer Technologist
Charlie O'Geen – Sculptural Consultant
Ben Wolf – Structural Builder
Yoni Goldstein – Creative Consultant
Ben Friedman – Producer
Rebecca Prosser – Producer
Geoff George – Cinematographer
Zach Takenaga – Camera Operator
Katie Barkel – Camera Operator
Stephen McGee – Camera Operator
Mark Haygen – Sound Recordist
Ben Collins - Sound Master
Greg Tom – Archivist
Jessie Doan – Archivist
INTERCHANGE ART + DINNER SERIES 2015
Join the Museum of Contemporary Art Detroit for the second annual Interchange Art + Dinner Series summer fundraiser. Detroit's most avid art collectors and supporters are opening their homes for a range of exclusive evenings that will combine food, drink, and art to create truly unique experiences. This array of individual and diverse events will unite like minded members of the community to benefit MOCAD and the ever thriving creativity in the city of Detroit.

Proceeds from the Interchange Art + Dinner Series aid in funding MOCAD's commitment to the presentation of forward thinking art and cultural events.

Tickets are available on a first come first serve basis.

For more information please call the Museum at 313.832.6622 or email interchange@mocadetroit.org.



DETROIT CITY is comprised of three concurrent series: Detroit Affinities (exhibition), Detroit Speaks (education), and Detroit Stages (performance). This multi-year research program is one of the most ambitious undertakings to date at MOCAD.
Parking and Directions to MOCAD
Detroit is getting a street car line, the M1 Rail! As such construction has made some areas of Woodward Avenue difficult to travel. For full lane closures and directions, check the M1 Rail's interactive map here.

Our parking lot is located off of Garfield St. We recommend taking John R to Garfield. If you are traveling from I-75 northbound take the exit at Mack Ave. to John R north. If you are traveling southbound on I-75, take the Warren exit west to John R south. Visitors traveling from the M-10 Lodge Freeway take the Forest Ave exit east to John R south.

Please call the Museum at 313.832.6622 if you need further assistance.
MOCAD SUPPORT
MOCAD Operations
Exhibition programming support is generously provided by the Taubman Foundation.

MOCAD Operations are supported by Masco Corporation Foundation, Erb Family Foundation, The Kresge Foundation, the Michigan Council for Arts &amp Cultural Affairs and the National Endowment for the Arts.

The Erb Family Foundation approved unrestricted operating support for 38 cultural and arts organizations, including larger organizations that have had historical significance to the family and other organizations that are essential elements of a strong core central City and vibrant neighborhoods.

​MOCAD's 2015-2020 Strategic Planning Initiative is funded in part by a generous grant from the Kresge Foundation.​

MOCAD Exhibitions

DETROIT CITY funding is provided by the John S. and James L. Knight Foundation, Kayne Foundation (Ric &amp Suzanne Kayne and Jenni, Maggie &amp Saree), Quicken Loans, Andre Sakhai, Liz and Jonathan Goldman, Jane Suitor, Scholar Property LTD, Jasmin Tsou, the Krawiecki Gazes Family, Kimberly Brown, and William Leung.

Detroit Speaks funding is provided by the Community Foundation for Southeast Michigan.

MOCAD Education + Public Programs
Additional funding for programming and educational initiatives is provided by the Edith S. Briskin/Shirley K. Schlafer Foundation.

MOCAD Youth Programs
Youth programs are graciously funded by the General Motors Foundation, the John S. and James L. Knight Foundation, Neiman Marcus, the Applebaum Family Compass Fund and the Michigan Council for Art and Cultural Affairs.

Mike Kelley Mobile Homestead
The Mike Kelley Mobile Homestead is commissioned by Artangel in association with MOCAD, LUMA Foundation and Mike Kelley Foundation for the Arts with the generous support of the Artangel International Circle.

Community programs in Mike Kelley Mobile Homestead are supported by the Robert Rauschenberg Foundation.